OK, so HAPPY MAY!

Today I woke up so excited to present a new user to the promoted users team.

I am not exactly sure how rollback works, and I think I have rollback tools as part of my admin powers. So the new promoted user will have to do some figuring out on their own, but as a rollback you can supposedly edit vandalism, typos, etc. a lot faster than a regular user can.

So we had two entries, sorry to Dragonmind218's who's just wasn't cooporating with the whole system of wikia, despite fitting the criteria, so with that we had Amethyst the Animus' logo and 3moons.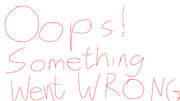 Then, me and precious hopped into chat and discussed the drawings. We thought both users would be fine rollbacks, but in the end we decided that we liked

drumroll

3moons' banner more! 3moons' banner will be put up and she shall be promoted to rollback.

Note: No more promotions will happen until we get some more users, as of now 50% of our users have a position in this wiki.
Make sure to congratulate 3moons!